Are you in the middle of preparing a baby shower and dont know where to begin? Or perhaps youre looking for ideas on how a baby shower can be sponsored? Were here to guide you on how to plan and host a Monster Inc Baby Shower. These Monster Inc Baby Shower Ideas are so simple and easy to do!
The great thing about all these party ideas is that theyre all themed to be a Monster University Baby Shower! Youll find some of the best party decoration ideas, ever! We love this list of baby shower ideas for boys!
Have fun picking out your favorite Monsters Inc themed baby shower decor!
I think its safe to say that having a Monster Inc Baby Shower Theme is a great idea. Below youll find some super fun and cute baby shower ideas to make the party a success.
Monster Inc Baby Shower Ideas
There are a lot of different moving parts when it comes to a baby shower so be certain to cover all the basics here!
Monsters Inc Baby Shower Invitations
Youll have to prepare a guest list and send out all those invitations until you get too sidetracked with this gathering. Of course, at several of your big party supply shops, you will find packets of affordable invitations, but if youd like to make an impression with your invite, look for customized Monsters Inc. baby shower invitations.
Do not believe the personalized invitations would also have a terrifying price-tag. These stylish invites can be designed for you and then printed either at home or a local print shop, usually are affordable.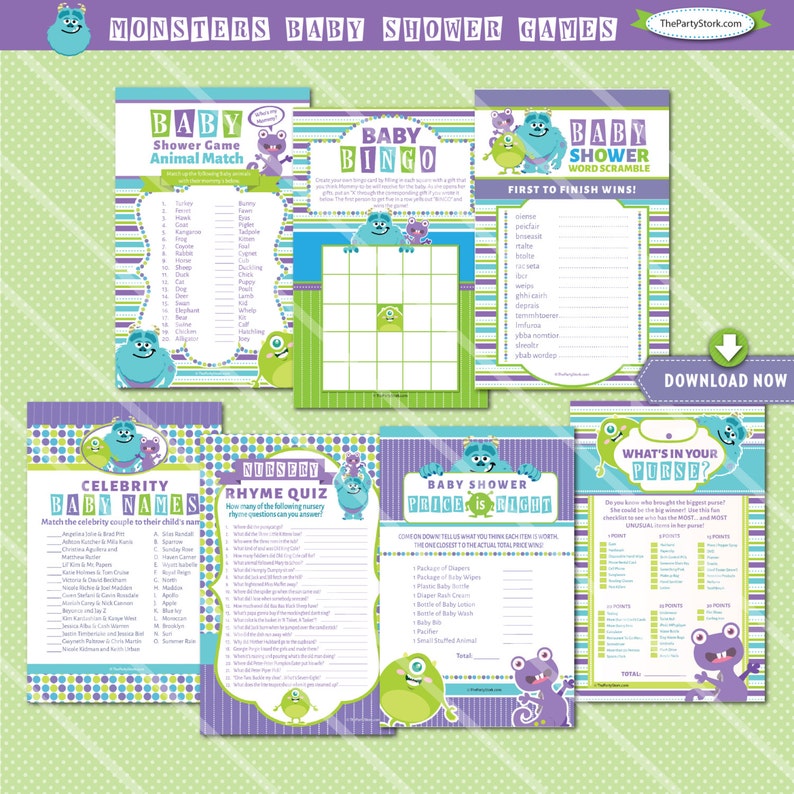 Monster Inc Baby Shower Decorations
Start with a color combination that reflects Mike Wazowskis lime green and sully blue. Use these shades for everything from banners, balloons, and streamers to tableware.
Hanging Doors
For a pleasant DIY decoration, hang paper doors from a clothesline. You may have your visitors design the doors too.
Monsters Inc. Soundtrack
Maybe its not actually a decoration, but the background music will do the same thing: set the party mood.
Monster Inc Baby Shower Food Ideas
If theres anything a lot of people like more than kids, its food. And without it, were incredibly frightening, so you better make sure youre planning a great baby shower meal. It can be fun preparing and creating your monster menu. Here are a few treats from Monsters Inc. that you would not want to miss.
For a great Monsters Inc Baby Shower Cake idea, check out this Blueberry Muffin Cheesecake recipe!
Sully Fur
For this fun themed treat, blue-raspberry cotton candy lends itself well. Place it for a leisurely shower snack in colorful favor bags. You can also whip up some fun cotton candy mocktails to drink, too.
Mud Fudge Cupcakes
With a delectable mud fudge chocolate cupcake, provide your guests with something to dig their teeth into. If youre not a chocolate fan, make marshmallow goo cupcakes instead.
Carrot Cake Cookies are a great idea! These are certainly amongst the favorite desserts for baby showers. Classy and so tasty are the delicious carrot cake cupcakes frosted with cream cheese icing and topped with delicate piped florals.
Rose Sugar Cookies
The elegant rose sugar cookies will add a decorative appearance to any dessert table for the baby shower. To pipe a beautiful rose onto the sugar cookies, use three pastel colors. You can replicate these or pick colors to fit your baby shower decor.
Lime Slime Soda
By combining 2 liters of your favorite lemon-lime soda and lime Kool-Aid, make your own lime slime soda, and present it to your guests.
If they dont like that, this Blue Mocktail Recipe is super delicious!
Monsters Inc Baby Shower Games
Any baby shower without any kind of exciting baby shower games will not be perfect. You may just go for the aby shower basics, including scrambles and word searches, but we figured of a couple more that could allow one to remember your Monsters Inc. baby shower. Here are some great baby shower games!
Draw a Door
Participants are given 10-15 minutes in this game to design a door out of construction paper, glitter, markers, rhinestones, and anything else youd like to provide. The doors are evaluated secretly by Mama-to-be: her favorite wins.
Baby Sketch Artists
Who thought that paper plates could be such a lot of fun? To all of your visitors, hand out strong paper plates and markers. Let them know that theyre going to draw an image of the kid, and the best drawing is going to win. The trick is that with the paper plate on her or his head, everybody has to draw. Its a funny sight, and its assured that the final sketches will have everybody in laughter.
Guess the Baby Food
Collect seven to ten exclusive baby food jar flavors, number each cap, and take the stickers off. Request each participant for a spoon to get and start tasting. The person with the keenest taste buds receives a prize.
Bottle Chug
Split all guests into teams. Each team must chug a liquid of your selection (it can be water, milk, or even beer) through the nipple from a baby bottle. The team completes first, wins. Ensure that no one attempts to cheat by unplugging the top.
Monster Inc Baby Shower Favors
A perfect way to say Thanks for joining and engaging in your party is to give baby shower favors. The best party favor for everybody is a delicious thing to take home, so cookies, candy, and cupcakes all are monster pleasers.
More Baby Shower Fun