When I was a kid my favorite game to play with my family was Clue. I vividly remember playing with my mom, she was an avid mystery reader and Clue was one of her favorite games.
These Clue Fruit Kebabs with Yogurt Dip are great but be certain to check out the rest of my popular dip recipes as well!
I recently picked up a vintage Clue board game, I fell in love with the illustrations and I knew this was the perfect way to introduce Clue to my kids. My daughters were home for spring break last week and of course I selected Clue as my choice for family game day. Before we played, I set about creating Clue inspired fruit kebabs and yogurt dip
I have always loved how each Clue player is named for a different color and in some cases an actual food. The names of the characters are exactly what inspired our fruit kebab treat.
In case you don't remember who the characters are; Colonel Mustard, Professor Plum, Mr.Green, Ms.Scarlet, Mrs.White and Mrs. Peacock. Each of these names can corresponded with a type of fruit. Thus, our snack was made.
Clue Fruit Kebabs with Yogurt Dip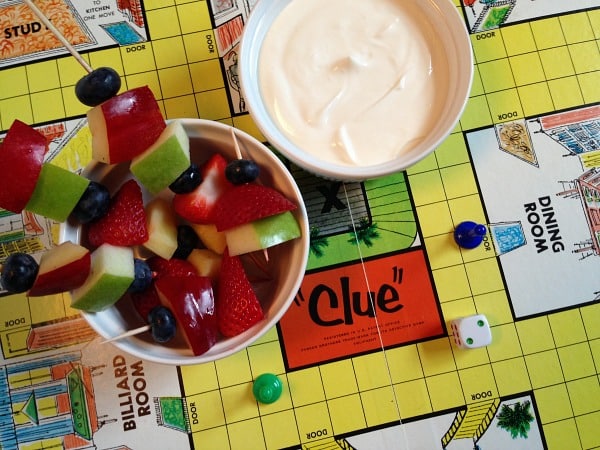 With our fruit kebabs and yogurt dip in hand we played our game of Clue. The addition of the yogurt dip makes these skewers a favorite of my girls.

If your kids aren't interested in fruit, try swapping out color coordinated veggies. Perhaps a veggie kebab could include yellow peppers, cherry tomatoes, green beans, purple cauliflower, blue boiled potatoes and a yogurt dip with garlic powder and fresh herbs. That sounds pretty delicious too.
My daughters are aged 8 and 10 years old and they haven't quite figured out the ins and outs of Clue. It is amazing to observe the different approaches they take to gathering clues and coming up with the ultimate solution. As our family plays I feel like I am a kid again, laughing and playing a fun board game.
What fruit or vegetable would you include in a Clue inspired kebab?
Clue Fruit Kebabs with Yogurt Dip
These are great for family game night!
Ingredients
Yogurt Dip Ingredients
1 cup plain greek yogurt
1 tbsp honey
1/4 tsp vanilla
Fruit Kebobs Ingredients
blueberries
strawberries
pineapple
plum
green apple
Instructions
Combine yogurt, honey and vanilla in a medium bowl. Set aside.


Clean and prepare the fruit for the skewers. Leave blueberries whole. Slice strawberries in half. Slice pineapple, plum and apple into strawberry sized pieces.
Skewer fruit on either toothpicks or long skewers.


Serve kebabs with yogurt dip.
Nutrition Information:
Yield:

6
Serving Size:

1
Amount Per Serving:
Calories:

88
Total Fat:

1g
Saturated Fat:

0g
Trans Fat:

0g
Unsaturated Fat:

0g
Cholesterol:

2mg
Sodium:

30mg
Carbohydrates:

17g
Fiber:

2g
Sugar:

13g
Protein:

5g