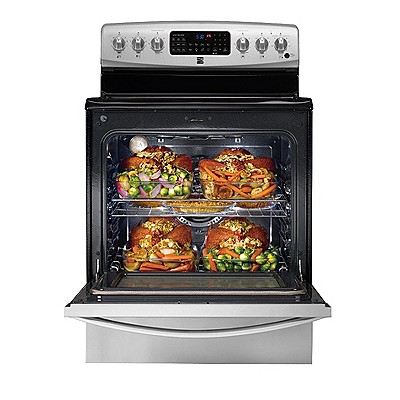 Earlier this Winter, I told you that I was getting some new toys! Well, I got them and am totally in LOVE!
Let me tell you a bit about my new stove in true Kelli fashion!
The Kenmore Elite 30" Freestanding Electric Range—Stainless Steel is a masterpiece for the at-home Chef! The ceramic glass cooktop features one 12-inch triple, one 9-inch Turbo Boil™ and two 6-inch radiant elements. PLUS, it has a food warmer element in the middle back! I love that part! I can cook something and move it off to free up another eye but keep it warm. No more reheating right before putting food on the table.
Kenmore says that the 5.8 cubic-foot oven accommodates three full racks of food and it they are not kidding! I made a ton of cookie kisses 2 weeks ago… I have 3 mini-muffin pans and all three fit PLUS I could have fit six as they will go in long-ways! Since it features true convection, which combines a hidden heating element and a fan to roast and bake food faster and more evenly than conventional ovens, I didn't have to worry about the top rack cooking faster than the bottom rack. Perfect cookies every time! Now, I have to buy 3 more mini-muffin pans. Nice, right?
To Buy: Regularly $1599.99 you can save $400.00 at Kenmore.com right now AND earn 12,000 Shop Your Way Rewards points.
Mom Says: I am telling you, if you cook 80% of the meals your family eats then spending money on a great product is well worth the cost. Besides, it looks pretty. LOL!
You will be able to see this amazing stove at work very soon as I am working on doing a Google TV show on a regular basis. Cool, right?
*DISCLAIMER: I was sent items by Kenmore to help facilitate my review. No money exchanged hands. Any opinions stated are strictly my own.*