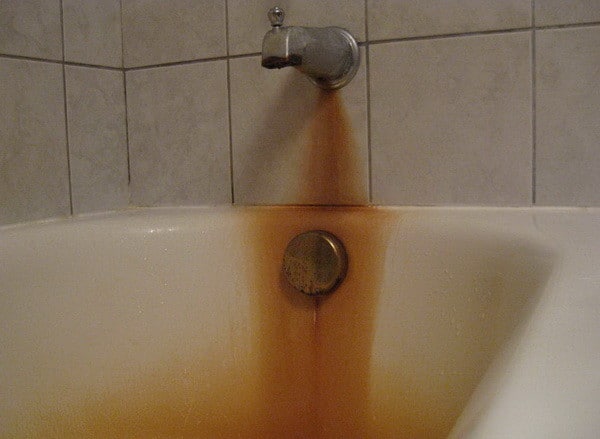 ​When you want to make sure that your bathroom looks great, you will find that one thing to consider is what your bathtub looks like. Your bathtub is one of those furnishings that sees nearly daily use, and because of that, it is easy for it to pick up stains so gradually that you never notice until suddenly one day, you can't take it any more! If your bathtub stains have been getting you down, take a moment to consider some of the best ways to remove it.
Calcium Carbonate
There are plenty of stains out there that can be removed with some friction and abrasion, and this is where calcium carbonate comes in. Calcium carbonate is marketed under a variety of names, but essentially, it is ground-up limestone. To use it, simply wet down the area where the stain is, dust it with the calcium carbonate and let it sit for five minutes. Then use a cloth or a tough sponge to buff the stain right out of the tub. This simple trick is quick and easy. Remember that this is only for porcelain tubs. Acrylic or enamel tubs should not have abrasives used on them.
Vinegar
A vinegar soak is safe for every kind of tub, and if you do not have white vinegar as part of your cleaning regimen, now is the time to start. Apply a liberal amount of vinegar to the staining in the tub, scrubbing it in well with a scouring pad. Allow the vinegar to sit for an hour, and then fill the tub with very hot water, covering the stained area. After that, allow the vinegar and hot water to sit overnight. In the morning, empty the tub and simply wipe it down. This is a great way to remove stains naturally.
Bleach
Always be very careful when you use bleach to clean your tub, especially if your tub is anything except white. Dilute your bleach solution by mixing it with an equal amount of water, apply it to the stain and wait five minutes. Then scrub the stain out and rinse thoroughly.
Shampoo
Sometimes, you don't have the time to scrub things or to let them sit for a while. If you are looking for a quick fix to take out the worst of the staining, use shampoo to scrub away the stains and also to give your chrome a nice shine. This is not the best way to remove staining, but it is fast, and it rinses clean with no residual odor. This makes it perfect when you are cleaning for guests.
Salt
If you have an old fashioned enamel tub, you may be worried about cleaning it effectively and without harming it. Fortunately, you can use the same methods that people have always used to clean enamel. Simply make a solution that is equal parts salt and turpentine. Protect your hands with rubber gloves and make sure that the window is open when you do this. Use this solution to scrub away the stain, and then rinse the area completely.
When you want to make sure that your tub stays clean, remember that the easiest thing that you can do is to wipe it down after every use. Tub stains can also be prevented by adding a water softener, which removes the iron from your water and prevents unsightly rust stains. Click here to see Kinetico's full offering of water softening systems. Following these easy tips can help you keep your tub sparkling no matter how many baths or showers you take!
Kinetico is an water treatment company serving the Central Texas area. They provide products such as water filtration systems, water softeners, and more. For more information, find them on Facebook.