Are you getting ready to celebrate Earth Day? Earth day is April 22nd.
We usually celebrate "TV Turn-off Week" around that time as well, so it's the perfect excuse to get outside and enjoy the great outdoors. We'll also be making some Earth Day themed crafts and I've been busy browsing around online finding ideas. Check them out below!
Ways I Can Help the Earth Worksheet
I spotted this free printable over at Miss Kindergarten. I like it because kids can draw or write sentences depending on their age level.
Earth Cupcakes!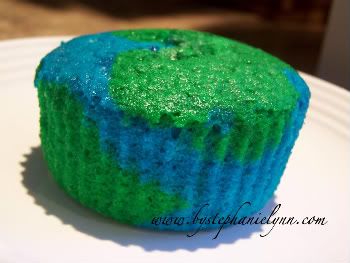 Isn't this cupcake cool? Under the Table and Dreaming tells how to make this little beauty in this post.
Bottle Cap World
As I've mentioned before, we go through a lot of bottle caps in this house, so this project would be perfect for us! You can find the full scoop over at Love and Lollipops.
Cereal Box Coloring Book Holder
This project is perfect for little hands and older kids alike. And it helps keep things neater on the shelf — win win! I spotted this idea over at 99 Crafting.
Earth Day Inspired Craft Tree
I just love the looks of this tree! Rachel over at I Heart Crafty Things made this with her kids after reading some Earth day books. Click on over to her post to get the play by play as well as some book suggestions.
Tin Can Drums
I absolutely love this idea! My kids are all about music and drums, so this craft will be a blast for them. Head on over to Makes and Takes (one of my favorite blogs) to check out the full instructions.
Magazine Circle Tree
Sara over at Momtastic got Arbor Day and Earth Day mixed up, but this tree craft is perfect for both. Read the full tutorial here.
Mr. Recycle Head
Can you even handle the cuteness of this project?? Very fun and perfect for reminding kids and adults alike to recycle! Read all about him at Easy Preschool Crafts.
Recyled Bottle Bird Feeder
This is a project we did last summer, and it was a favorite activity for sure! Check out the full tutorial over here.
Recycled Bottle Rain Stick
Since this project makes noise, I'm sure my kids wold love it! You could even make it with those mini-water bottles in order to make it easier for little hands to hold. You can find all the instructions over at Kids Activities Blog.
Happy Crafting!!
FREE GOOGLE BOOK TO READ!!
Did you can browse through a number of book in their entirety on Google Books? Here's one Earth Day themed book to take a look at:
Craft Cycle: 100 Eco-Friendly Projects and Ideas for Everyday Living
More Sites to Check Out:
Cybrary Man's Educational Websites: This website is chock full of Earth day ideas including book suggestions, writing prompts, science projects, and tons of ideas about recycling and upcycling.
The Imagination Factory Trash Match Up: This super fun site lists all kinds of "trash" products and matches them with fun craft projects for kids. There's a huge list, so don't put those recyclables out on the curb just yet!
Nurture Store: This page has over 100 Earth Day ideas for kids including growing a meadow and tons of link-up ideas.
Green Kids USA: Head on over to this site to grab some more craft ideas and FREE RECYCLING POSTERS!
Lindsey Whitney is a mom of two, home day care provider and blogger over at Growing Kids Ministry. You can connect with her via twitter or on facebook.