This is a sponsored post written by me on behalf of Purina®. All opinions are 100% mine.
We are a home filled with animal lovers. Currently we own a cat named Romeo who thinks he's the true head of the house. He can't wait for everyone to wake up to get his morning Purina® fix. He loves his Friskies food with a passion. The best place to get the most for our money for him is at Sam's Club.
Romeo adopted me as his owner when he was a little tike. He literally followed me for my half mile walks a couple times a day. Then he begged to come inside and be our indoor cat. He hasn't left my side since then. Now granted, he may hide a lot throughout the day when my daughter is up and about, but the minute I tuck her into bed he becomes my shadow and cuddle bug.
Romeo always knows when I need his cat love. He'll come up to me and purr up a storm and hug me with his paws wrapped around me. He even loves to lay in my arms while I'm working. He gives me that extra bit of motivation to keep going. He has a way of making me feel more at peace. He also knows when I need to take a break from work.


I've heard somewhere, and I can't remember where right now, that having an animal in the house that you can pet helps to relieve stress. I must say that is definitely the case for me. When I am stressed to the max, when I grab a hold of Romeo and he purrs and loves me back while I'm showering him with caresses it tends to make my blood pressure drop in great degrees.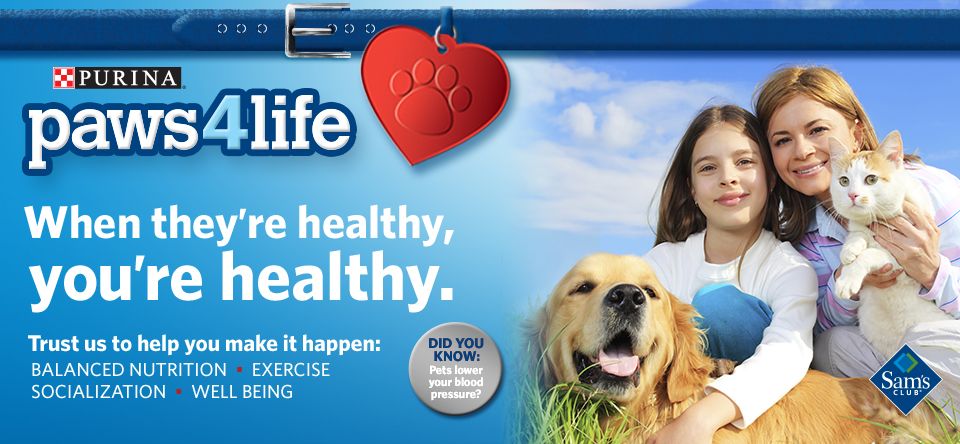 That's why when I saw the Sam's Club Purina® Paws 4 Life Pledge it didn't take much convincing to have me sign it. Romeo is worth my extra time and devotion to stay healthy. Plus I want him to be a healthy cat filled to the rim with healthy food from Purina®.
I pledge to live a healthier lifestyle along with my pet. We are starting this journey together, and you can too! http://t.co/iZGbswVUTQ

— Crystal Green (@Tidbitsofexperi) September 22, 2014

Please won't you go sign the Sam's Club Purina® Paws 4 Life Pledge? I bet your animal would appreciate you making a stand to be healthy and to keep them healthy. After all  a happy pet is a healthy pet, right?
What does your animal do for you?