This is a sponsored post written by me on behalf of Purina®. All opinions are 100% mine.
Purina® has been a product that my family has relied on using for as long as I can remember. My mom wouldn't use anything else for as many years as I can remember for all of our animals. I may only own one cat right now, but he is truly spoiled rotten.
He truly looks forward to his meal time to the point that at 8am he wakes up the entire household with his constant meowing.  For me personally, he gives me loads of head rubbing and cat kisses plus his little pawing action to get me up out of bed so that I'll get the kids up and moving with their chores.
Jimmy's chore is to make sure that Romeo gets his can food and dry food together along with fresh clean water. Romeo makes sure that he gets his FRISKIES® can food mixed with his Purina® Cat Chow®. He digs into his Purina® combination with gusto.
Then he's the friendliest cat alive all day long. He stays curled up on my desk in between me and my computer. He lays his adorable head on my arm and goes to sleep. I get to work while listening to the sound of his purring. It's so relaxing and helps me during those frustrated periods when I run into technical glitches from time to time.
When I shop at Sam's Club, I save myself money. Right now they have the Sam's Club Purina® Paws 4 Life Pledge page which I was quick to sign because I do believe Romeo deserves nothing but the best. In order for him to have a long healthy life, he's going to need me to be healthy to ensure I'm there to take care of him too. By taking this pledge, I'm making a promise to him that we will eat nothing but healthy foods together.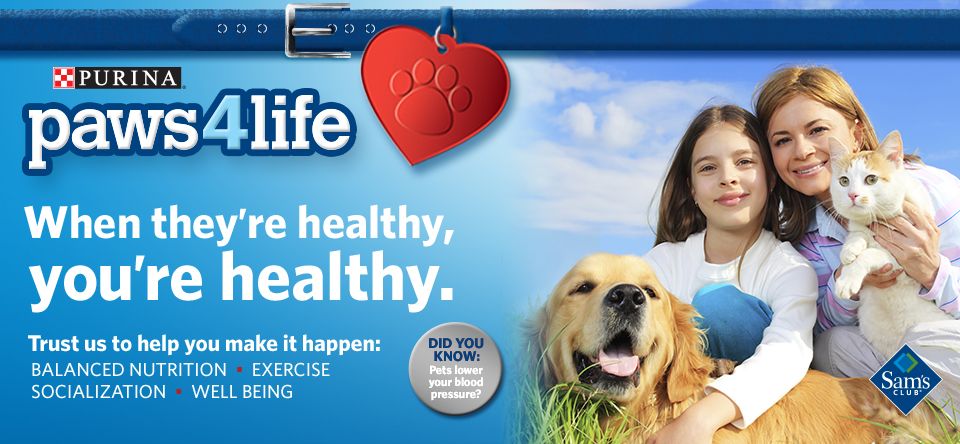 Unlike my wonderful kids, he doesn't grow up and become independent. He's going to need me around for as long as he lives. Cats get attached to their owners and don't do well with change. I want to make sure that we're a team as long as he lives. Plus after all a happy pet is a healthy pet.
Won't you take the pledge with me on Sam's Club's website?