This is a sponsored post written by me on behalf of  Walmart. All opinions are 100% mine.
We have started potty training Zeva and let me tell you that is a task and a half. I do declare potty training a kid has got to be the hardest task a parent has to teach their kids. At least for me it is! I've been blessed with being able to put my kids through "Me maw's Potty Training Camp", but this time it's not quite an option due to her health declining. Zeva is all about fashion! She loves to be stylish in everything she wears all the way down to her underwear and socks.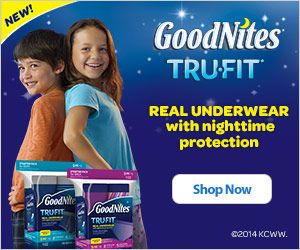 When I heard about GoodNites* TRU-FIT* Underwear Starter Pack I was quite interested in them because I know Zeva cares about keeping her things nice. If she has stylish underwear on, then she's less inclined to have an accident. At least that's the case when I let her wear her little panties. Now, we have a win-win situation for us both because she gets to feel like a big girl at night and be wearing cute underwear, and I get to have nighttime protection against any accidents. 
GoodNites* TRU-FIT* Underwear Starter Pack can be found at Walmart and Walmart.com for both boys and girls in sizes S/M and L/XL with colors and patterns for each size. Of course, you can also get disposable, absorbent inserts which are designed to protect your kids PJs and sheets all night. For the record a starter kit is almost the same cost as buying a case of diapers.
Remember that your child can not control her bedwetting. It's something that every parent has to wait until their child's body is strong enough to handle waiting until morning or gives them the triggers they need to know they have to go. Be sure to watch this little video to learn more. These underwear are especially made to provide comfort and protection and have a slot for the inserts. To me it's like giving a child a pair of underwear that are made to wear a pad. Plus the underwear are washable too. (I wish they had these type of underwear for women who have periods that require them to wear pads!) As we all know, keeping a child in diapers really doesn't encourage them to work on being potty trained because they lose their independence when they are wearing diapers. When they are wearing real underwear or even GoodNites* TRU-FIT* Underwear they are given the freedom to use the restroom like everyone else. To me, that seems to be the trick that my mother-in-law uses the most is building confidence in the kids that they CAN be INDEPENDENT when it comes to where and when to use the restroom.
I also feel that these can be used beyond just the night fall because no one beyond really your child and yourself will really know the difference. That to me is what sets them apart from pull-ups or things like it. They are not big and bulky. They are a great last step to you buying underwear and that's it for your child. You can find out more information about GoodNites* TRU-FIT* Underwear by visiting GoodNites website. You can also connect with them on Facebook, Twitter, Google+ and YouTube.