Martha Stewart Pets has launched their spring pet collection! I got a chance to try out two of the items from the new line.
I think Bailey looked pretty good in her pink butterfly cotton hoodie from Martha Stewart Pets. Normally, she's not too thrilled about getting "dressed up," but this fit her comfortably and provided a nice layer of protection against the crazy cold late spring weather we've been having here in MN.
I think the hood adds a little bit of fun. Obviously it's not super functional over Chihuahua ears, but it is a cute detail that makes this hoodie stand out from other doggy sweaters. The hoodie held up well in the wash and did not fade at all.
I really liked the 3 piece bowl set I received to try out, too. It was the perfect size for my Chihuahuas, though it was a bit small for the pit bull as you can see here.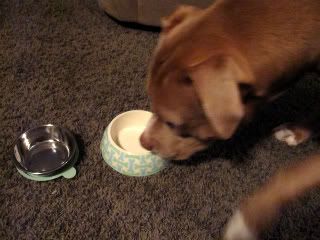 What I liked most about it was the air-seal lid. In the past I've fed my dogs a raw diet, and with the air-seal lid, you can pre-make a meal and stick it in the fridge without worrying about it drying out. Or pop the whole dish set in the car with your pup's meal already portioned out for days when you're traveling with your canine companion.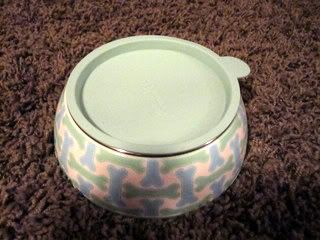 The bowl had a nice non-skid bottom, too, which is important in our house. My dogs are very food-motivated, and the non-skid bottom helps keep them from nosing the bowl across the kitchen as they eat.
Buy It
The Martha Stewart Pets line is available exclusively at PETSMART and is on sale fro 20% through May 22, 2011.
You can purchase the Butterfly Hoodie shown here for $9.97. The 3-Piece Bowl Set for Dogs is on sale from $8.14 to 16.79.
Win It
One lucky reader will win BOTH a 3-piece bowl set AND a cotton hoodie for their own pup!
REQUIRED COMMENT: Check out the Martha Stewart Pets Collection at PETSMART, look around, then come back and tell me one item you would love to have for your pet not mentioned in this review.
BONUS #1: Follow @MARTHASPETS and @momof3boys3702on Twitter and RT this contest. The easiest way to retweet is to simply click the green ReTweet on the top right of this post. YOU MAY TWEET ONCE DAILY
Other bonus entries:
#1. Spread the word about this review by: email, forums, blogging, Digg, or putting the link in a meme. (one entry per thing done)
#2. Follow the 3 Boys and a Dog blog.
#3. Subscribe to the 3 Boys and a Dog RSS feed.
#4. Put the 3 boys and a Dog button on your blog.
#5. Leave a comment on any other post (excluding giveaways!) Be sure to leave a comment here saying which post.
#6 – Vote for 3 Boys and a Dog at Picket Fence by clicking the button on the sidebar. Be sure to leave a comment saying you did! YOU MAY VOTE ONCE DAILY!
CONTEST ENDS: at Midnight CST on May 16th, 2011.
OPEN TO: USA residents
*DISCLAIMER: I was sent items by Martha Stewart Pets to help facilitate my review. Any opinions stated are strictly my own.*