This is a Sponsored post written by me on behalf of Buffalo Wild Wings. All opinions are 100% mine.
Football season is right around the corner. There's no better time to head to Buffalo Wild Wings than during football season.
I took my boys to Buffalo Wild Wings to take advantage of their discounted pricing on Wing Tuesday. It was so hard deciding which flavor to choose to get. They have tantalizing flavors like Caribbean Jerk, Teriyaki, Salt & Vinegar, and my new all-time favorite is Parmesan Garlic. I literally left it in the hands of the waitress as to which ones I should try.  My boys gobbled up all the wings they could get their hands on. They even went so far as to try the spicy flavors that I had bought. Low and behold, they even enjoyed the spicy flavors.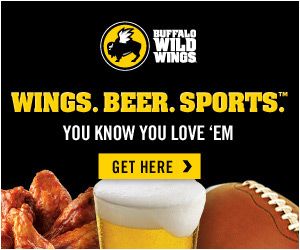 During football season, the experience at Buffalo Wild Wings is even more intense. They have their big screens with the football games on them, and all the fans are there cheering for their favorite teams. Plus we get to enjoy fabulous wings together as a family with the sharable options that they have on their menu. They have created a place where both adults and kids can enjoy the insensitivity of the football games and friendly atmospheres.
For some women, this is such a benefit because now they can save themselves from having to cook, host, and entertain a house full of guests. They just send their men to Buffalo Wild Wings. Of course, I don't want to miss the action, and love the good times that I've had at Buffalo Wild Wings so I'm right there with my men. If you would rather keep the men home, but don't want to do all the extra cooking Buffalo Wild Wings offers take out too.
You can learn more about Buffalo Wild Wings and all of their other flavors they offer on their website. You can also Like Buffalo Wild Wings on Facebook ,Follow Buffalo Wild Wings on Twitter, and Subscribe to them on Youtube. Don't forget to sign up for their newsletter to get special deals and promotions.