With school just around the corner, now is the time to begin firing back up the brain for learning!  A terrific way to get your kids ready for school is with a "Back to School Bash" filled with learning games.  Here are five great games to refresh spelling skills.
#1 Letters on the Lawn
I spotted this fabulous game in this month's issue of Family Fun magazine, but I can't seem to find the directions on their website.  Better Homes and Gardens has similiar directions, so you could check out their post, though Family Fun recommends using Masonite to make the tiles.  The picture above is found at Constantly Love Struck, though there aren't many directions at that site.
#2 Lego Spelling
I am constantly amazed at the fun things you can do with legos.  This game, Duplo Spelling found over at Kids Activities Blog, is a perfect way to practice spelling before school!
#3  Spelling at Snack Time!
You'll have to eat some time during the party.  Why not grab a few boxes of these Scrabble Cheeze-Its and practice spelling while you munch?
If you've got little ones, you could simple use them for letter recognition or perhaps working on spelling their name.
#4 Bottle Cap Colors and Spelling
I was super excited when I saw these free printables over at Free Homeschool Deals.  We're always saving bottle caps and looking for good letter activities. This one helps with spelling, letter recognition, and colors.  Terrific!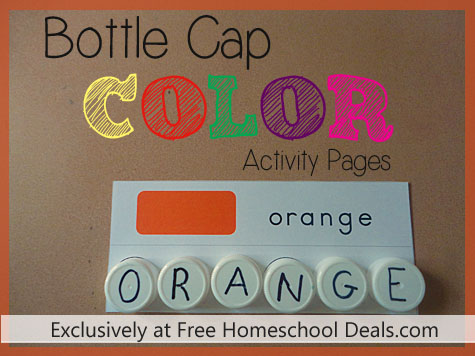 #5 Spell My Name Hopskotch
This idea comes from Enchanted Homeschool Mom.  Check out her full post for directions and other great sidewalk chalk games for reading, spelling, and color practice.
More Things to Check Out:
About Lindsey Whitney
Lindsey Whitney is a mom of two, home day care provider and blogger over at Growing Kids Ministry. Growing Kids Ministry is a blog designed to help parents, teachers, and Children's Ministry workers who want to help the kids they love grow in their faith.  You can connect with her via twitter,  facebook or you can email her at lindsey (at) growing kids ministry (dot) com